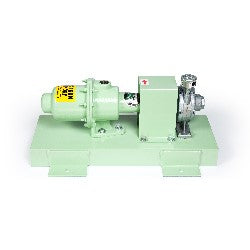 Continental CP Pump
Our Pumps have been used on the toughest pumping problems in the industry since 1946.  This amazingly versatile pump is available in compact, low-cost, models for a wide range of uses.
When properly applied these pumps will yield performance never before accomplished with other types of pumps.  They are small in size, light in weight, easy to maintain, requiring no lubrication. 
Model CP pumps and parts are interchangeable with many progressing cavity pump brands.
Need a complete pump on an inline base, a v-belt base or as a hydraulic unit?  Contact us.
Continental CP Pumps are ideal for many kinds of cleaning, transferring, circulating, metering, filling, sprinkling, irrigating, sewage, water systems, washing, drainage, and spraying jobs.
---
We Also Recommend