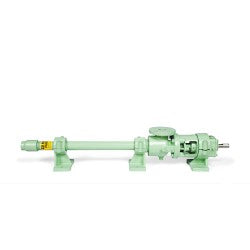 Continential CM Pump
Our Pumps have been used on the toughest pumping problems in the industry since 1946.
Model CM Pumps are similar to the Model CL Pumps, except they have a larger drive head to handle the increased horsepower that is needed to produce the higher pressures that can be developed by these pumps.
Continental Pump CM Model pumps and parts are interchangeable with many progressing cavity pump brands.
Need a Complete Pump on an In Line Base or V-Belt Base or as a Hydraulic Unit? Contact us. 
Continental CM Pumps are ideal for many kinds of abrasives, aerating, caulking, cementing, circulating, cleaning, filling, industrial waste, irrigating, metering, mixing, pastes, sampling, sewage, spraying, sprinkling, sludge, slurries, transferring, washing, waste water, and water systems jobs. These are the most common types of applications that are being successfully and economically performed by these amazingly versatile pumps.
Our CM Line consists of CM1, CM2, CM3 and CM4 frames with an option of 2, 3, or 6 stages.  CM Pumps not listed are:  3CM1, 2CM2, 3CM2, 2CM3, 3CM3, 2CM4 and 3CM4. For more information on these pumps please contact an Application Specialist or a Distributor near you.
---
We Also Recommend